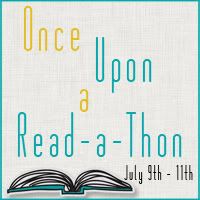 Oh, how I love a good readathon! I was just checking a couple days ago to see when the next Bout of Books was going to be, and then I was all depressed because it wasn't for over a month. But then I discovered Once Upon a Read-a-Thon (hosted by
Pure Imagination
,
Reading Angel
, and
Candace's Book Blog
), and all was right in the world again!
My To-Read List
Flirting in Italian
by Lauren Henderson
Twenty Boy Summer
by Sarah Ockler
French Leave
by Anna Gavalda
A Night Like This
by Julia Quinn
Proof by Seduction
by Courtney Milan
Slow Summer Kisses
by Shannon Stacey (on my Nook)
Morning Glory
by LaVyrle Spencer (not pictured because I will be picking it up from the library in about twenty minutes)
There's really pretty much no chance of me finishing all these books, but they're the list from which I'll be picking. My goal is 3 books, although I might go a little crazy and shoot for 4.
7/9
Books Read Today:
Completed:
A Night Like This
by Julia Quinn
In-Progress:
Morning Glory
by LaVyrle Spencer
Challenge:
All About Covers (hosted by
IBBookBlogging
)
Question One: My favorite cover reveal of the summer is
Boundless
by Cynthia Hand. It's so gorgeous! And as much as I love the blue covers of the others, I'm really digging the pink in this one. It's so ethereal and beautiful.
Question Two:
Do you rely on the cover to help you choose whether you want to read a book or not?
Yes. I'm a
huge
cover person, which I totally shouldn't be. But I am. The cover is most definitely not the deciding factor, but it does influence me. I'll be more likely to read something with an awesome cover and less likely to read something with a horrible cover. It's just a fact.
Total Books Read:
1.44
Total Pages Read:
508
7/10
Books Read Today:
Completed:
In-Progress:
Morning Glory
by LaVyrle Spencer
Challenge:
-
Total Books Read:
1.68
Total Pages Read:
590
7/11
Books Read Today:
Completed:
In-Progress:
Morning Glory
by LaVyrle Spencer
Challenge:
Most Anticipated Book of 2012 (Hosted by
The Reader Bee
)
There are several books that really could have been an option for this place, particularly those that were the continuation of series. But
My Life Next Door
was really the only standalone, and I was so excited for it that I actually bought it without having previous experience with the author. I almost never do. (It was totally worth it!)
Total Books Read:
~1.82
Total Pages Read:
720