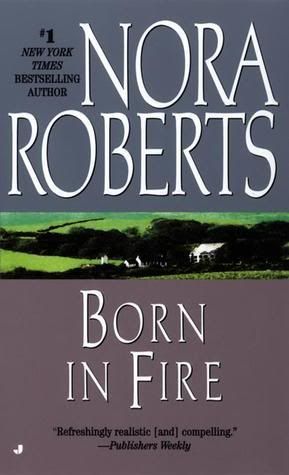 Title:
Born in Fire
(Born In #1)
Author:
Nora Roberts
Published:
October 1994 (Jove)
Format:
Audiobook (narrated by Fiacre Douglas)
Summary:
Gifted, reclusive, stubborn, free-spirited...Maggie Concannon is a glassmaker whose exquisite works are more than mere objects of beauty, but reflections of her own true nature. One man saw the soul in her art, and vowed to help this complex woman build a lucrative career. When gallery owner Rogan Sweeney came to Maggie's isolated studio, her heart was enflamed by their fierce attraction - and her dark past was slowly healed by a gentle and forgiving love...
My Review:
Born in Fire
is the first in the Born In trilogy by Nora Roberts, but I read
Born in Ice
first. There were two factors in
Born in Ice
that made me want to read
Born in Fire
. The first was the appearance of Maggie and Rogan. While their summary didn't sound all that interesting at the time, the characters themselves were intriguing, and I wanted to know more than the hints about their story that were conveyed in
Ice
. The second factor, though, was definitely the main one. And that would be the narrator.
The narrator of
Born in Fire
was Fiacre Douglas, who narrates all three books in the trilogy. For the first fifteen seconds of
Ice
, I was livid. How dare my romance book have a MALE narrator? That's what I got for downloading in a hurry and not checking the voice for once. I even had an actual rant about it, my empty car getting an earful as I drove down the road. But once I accepted it, I actually
heard
said male voice, instead of just the fact that it was not, in fact, a woman narrating my book. And I heard that he had an Irish accent. As a self-proclaimed accent enthusiast with a particular propensity for Irish accents, I found this rather swoon-worthy. I have also made a concentrated effort to refrain from seeing a photograph of said narrator, for fear he is a 55 year old man with beady eyes and a beer gut. In my head, he matches his voice. Which is, to say, quite attractive.
Aside from being aesthetically pleasing in the auditory department,
Born in Fire
had several more things going for it. Maggie Concannon was a great character! With artistic characters, it is extremely easy to make them
too
flighty,
too
eccentric,
too
irresponsible. However, Roberts managed a great balance with Maggie. She had flaws, but she had many redeeming qualities to balance them out. I truly felt the things she felt, and I understood how and why she needed to get them out in her art. The art itself - both the making and the appearance - was presented splendidly in the writing. I know next to nothing about glassblowing, but I never felt overwhelmed with details. At the same time, though, I could see immense beauty any time it was mentioned.
I also really liked Logan. It was very enjoyable to watch (or listen to, as the case may be) the two of them fight their feelings about each other, then finally give into the inevitable. They both had legitimate reasons why a relationship would be difficult, but they learned to move past them. There was also a splendid little side romance that was a joy to watch unfold. All in all,
Born in Fire
was definitely a winner! I would particularly recommend it if you are a fan of art, glassblowing in particular.
❝Sex and power generally depend on the woman.❞
❝When you love with all you are, it isn't just unhappiness you risk. It's heaven, too.❞

Purchase this book at: Amazon
|| Barnes & Noble || The Book Depository