Waiting on Wednesday is a weekly event hosted at Breaking the Spine, and the object is to spotlight a future release you are waiting patiently (or not-so-patiently, more likely) to read.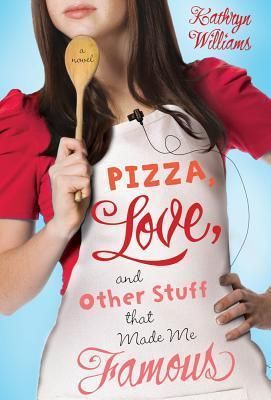 What book?
Pizza, Love, and Other Stuff That Made Me Famous
by Kathryn Williams
When does it come out?
August 21, 2012
What is it about?
Sixteen-year-old Sophie Nicolaides was practically raised in the kitchen of her family's Italian-Greek restaurant, Taverna Ristorante. When her best friend, Alex, tries to convince her to audition for a new reality show, Teen Test Kitchen, Sophie is reluctant. But the prize includes a full scholarship to one of America's finest culinary schools and a summer in Napa, California, not to mention fame. Once on-set, Sophie immediately finds herself in the thick of the drama—including a secret burn book, cutthroat celebrity judges, and a very cute French chef. Sophie must figure out a way to survive all the heat and still stay true to herself. A terrific YA offering--fresh, fun, and sprinkled with romance.
Why am I waiting on this book?
Everything about this book sounds like something I'm going to enjoy! The title is fun, the cover is adorable (the picture AND the typography), and the premise sounds absolutely delightful. I love stories centered around chefs/kitchen atmospheres, despite never wanting to actually work in one myself. I've been waiting on this one for a while, and I really hope it's going to be worth the wait once I (finally) get my hands on it.